Owners:
Doug, Kim & Olin Claassen
Potwin, Kansas, USA
Farm's Features:
1,400 sows farm, 4 week batch farrowing

8,000 finishings places, 220 farrowing places and 15 open-housing gestation pens

Diversified production including 600 to 700 feeder cattle, 3000 acres in croplands and

800 acres in pasture.

They have their own feed mill. They utilize their own corn and soybeans to feed their pigs.

10 full-time farm employees (5 are family members)

The farm has the Gestal Quattro for farrowing, the Gestal 3G for gestation and the Gestal EVO for gilt development.
Kansas Farmer Uses Precision Pig Feeding System to Grow their Family Farm
The Henry Creek Farms Dilemma: How Could a Small Family Farm Hog Operation Grow their Operation and Increase Efficiencies while Keeping their Costs in Check?
Fifth-generation Kansas farmer Doug Claassen, 65, faced the classic family farm problem with their swine production management.
His two sons wanted to come home and work in the family's diversified hog, cattle and crop operations. But was it even possible for a small family farm to be viable in today's pork industry and expand its operations?
They needed a way to increase the revenue of their pork operations while keeping their expenses to a minimum. Gestal's precision pig feeding system, affordable and flexible enough to fit their small family hog operations, was the solution.
Swine Feeding Solutions for E
ach of Production Stages
By incorporating Gestal's smart-feeders for gestation, farrowing and finishing, Henry Creek Farms improved their swine production management, increased efficiencies in labor, saved on feed and improved pig health, welfare and performance. They nearly doubled the number of sows in their farrow-to-finish operation and Doug's two sons joined the family farm operations.
A Family Pig Farm Looks to Grow Using Pig Feeding System Technology
The Claassen family goes back generations in central Kansas. Their first relatives arrived in 1876 from West Prussia.
When he was growing up, pigs were always part of the family's diversified operations, Doug says. When Doug came back to the farm from college in 1978, they had 120 sows. They gradually increased that as the farm focused more on adding value to their cropland by feeding their harvest to livestock. The pig manure was used (and still is) to fertilize their farmland.
By the time Doug's sons Cody, 30, and Cole, 26, were thinking about returning to the farm and joining their cousins who run the farm's crop production side, they were at 750 sows. The family knew they didn't want to buy more farmland. They looked instead to grow their pig production.
Plus, the hog market had consolidated. They used to be able to sell their pigs 30 miles from the farm, Doug says. They'd send a truckload of 35 pigs a week. Now Kansas doesn't have any packing plants, which means they have to haul four to five hours away. Freight's expensive. Going to larger groups of finished pigs at a time allowed them to stay profitable.
In 2018, they built a new finishing facility and in 2019, they added a new sow barn and turned their old facility into a nursery. In the new sow barn, Gestal's feeding systems are used with gestation, farrowing and their Gilt Development Unit (GDU). They keep half of their weaners to finish themselves and sell off the rest, although the goal is to finish all their pigs eventually.
"We can produce 2500 to 3000 pigs every four weeks and that gives us a good batch of pigs to fill a finishing site," Doug says. "We can go all in and out at and with Gestal, use some of the same technologies that the bigger integrators do, but affordable and at our scale."
Improved Feed Intake, Piglet Health, Saved Labor and Data Collection in the Farrowing Barn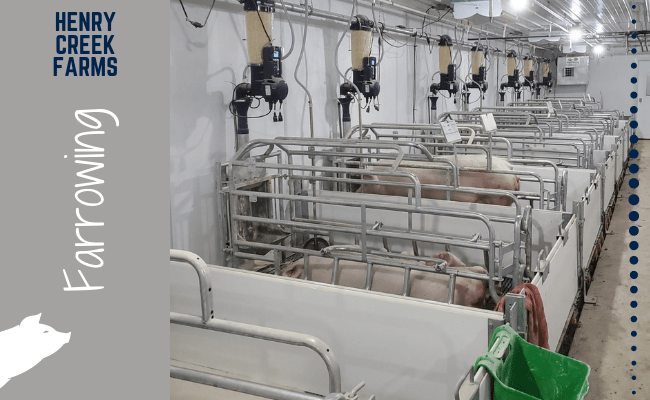 The Claassens use the Gestal Quattro in their farrowing barn. The Quattro is a precision feeding system that stimulates and tracks feed intake while giving each sow the perfect amount of feed she wants when she requests it, limiting feed waste.
They chose the Quattro because, along with precision sow feeding, it manages the piglet's environment with extra capability for an adjustable heat lamp or mat and a customizable heat curve and temperature probe. Cole uses the Gestal program to automatically adjust the pig's environment daily, litter by litter, based on the farrowing date.
They also chose the Quattro system because it allowed them to create a wet-dry feeding system. Water is managed directly on the Quattro, and producers can customize the mixture of feed and water for their sows.
"We're in central Kansas. It can get fairly hot in the summertime. In order to get our sows to eat more feed and produce more milk, a wet feed seems to be more palatable to them and they like it a little better than they do just a dry feed," Doug says.
Cole is responsible for maintaining sow health. He likes how Quattro alerts him to any sows that have gone off their feed. The first thing he does every morning is to check the computer to see if anybody didn't eat overnight. Then he can go right to those sows and check-in.
Not only does the Quattro increase their sow's intake by responding when they want to feed and offering them a wet-dry feed they prefer, but it also reduces their labor.
"If you don't have these automated feeders, you can only feed so many times a day," Coles says. "Whereas with (Quattro), it's going to drop feed all day and all night long. You get to spend a lot more time on other things, rather than spending your whole day hand-feeding 1400 sows."
Another bonus, Cole says, is the data they collect with Quattro's computerized system through each farrowing cycle helps them customize and tailor their diets to optimize performance for the next farrowing cycle. With their farm's ability to mill and blend their feed, that's a distinct advantage. And, of course, they can look to see whether they should have been offering more, or less, feed.
"We can go in there after every group and look at our data and see if we have a bunch of sows that were wasting feed, or were they asking for more?" says Cole. "We can get the most out of our feed, rather than having a bunch to clean up."
Gestation and Finishing Pigs with a Precision Pig Feeding System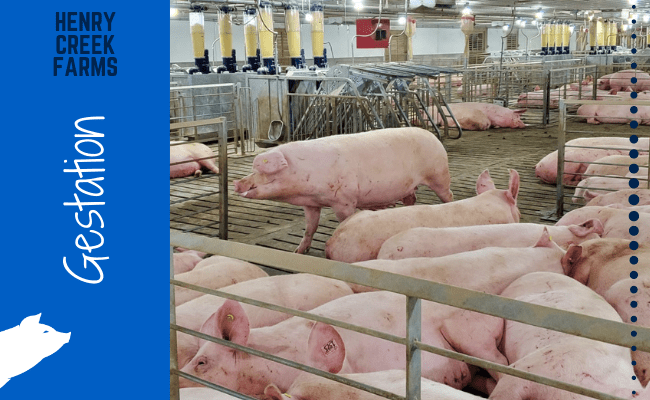 In gestation, the Claassen's went with the Gestal 3G because they wanted to implement a more open housing plan for sow welfare but were worried about the training problems with self-feeding stations they had heard about in competitor's products.
The 3G is a feed system for gestating sows in groups. Each feeding system isolates the sow at feeding time, minimizing the risk of aggression, and is activated by the sow's RFID ear tag, customizing feed and collecting data per pig.
And, as Cole can attest, the 3G is a breeze for training their gilt pens. When they start a new pen with 60 gilts, typically all but maybe 10% figure out the feeding systems independently. Then it's just a matter of separating those six or so pigs and they've got it down in a few days too. Even better, with the RFID tag system, Cole can easily spot on their computer any sows that haven't been eating.
Cole also uses the Gestal wand, which scans the pig's RFID tag and uploads that info to his cell phone, making locating, identifying and keeping track of their pigs as they move between pins and cycles a breeze. From his computer, Cole can easily search where that pig is on the farm and whether it is in farrowing or gestation and then with the wand, he can walk down the row and find the pigs he wants.
The Claassen's use the Gestal Evo for gilt development because it allows them to customize their pig's diet daily and bring 11-week-old gilts into the sow barn to acclimate to the herd at a young age. The EVO is a standalone system built for nurseries, finishing and gilt development. Each feeder is fully autonomous and can blend combinations of individual diets adjusted as needed over each feeder and each pen.
The Claassen use their EVO to reduce lysine percentages and match changing nutrient requirements daily, based on the gilt's age, allowing them to customize and produce healthier gilts when it is time to move them into gestation.
Plus, EVO's ability to blend right at the feeding station means they could reduce the number of bulk feed bins needed. They have a total of two bulk bins feeding all of gilt development, a saving in labor that made feeding developing gilts a lot simpler, Cole says.
Precision Pig Feeding System Offers New Opportunities
For Cole, the opportunity to come back and farm with his family — and especially his cousin Grant Claassen – who is his age and works on the crop side of the farm, is a dream come true. And, they enjoy a bit of a competition with the older generation.
"We know what our dads did. So, now we're trying to beat them out and see if we can do better," Cole jokes. Doug just smiles.
For more information on Gestal's line of adaptable, customizable precision pig-feeding technology, ask our expect or give us a call at (866) 333-7853. We are available to provide expertise with your project. Gestal's products are available worldwide, including in the U.S., Canada, Latin America, Europe and Asia.