OWNERS:
The SANDIDGE Family
Marshall, Missouri, USA
FARM'S FEATURES:
• 3,500-head sow farm
• Finishing, 80,000 head per year
• 25-30 full-time & part-time employees
• Crop production
• Gestating sows are fed with GESTAL 3G
Missouri's rich agricultural heritage, coupled with its diverse landscape and favorable climate, contributed to the growth and development of the pork production industry in the state. Over the years, advancements in farming practices and technology have helped it become a significant contributor to Missouri's economy and a vital source of pork for both domestic and international markets.
MISSOURI SWINE PRODUCTION FACTS:
Top Pork-Producing State: Missouri consistently ranks among the top pork-producing states in the United States, with an annual production of approximately 3.45 million hogs spread across 2,600 hog farms. Pork production contributes over $1.74 billion to Missouri's economy annually and employs more than 22,444 jobs.
Farm Diversity: The state boasts a diverse pork industry, ranging from large-scale commercial farms with thousands of pigs to smaller family farms with a few hundreds.
High-Quality Pork: Pork producers in Missouri adhere to rigorous quality assurance programs, ensuring the safe and high-quality production of over 200 million pounds of pork each year. The average American will eat approximately 50 pounds of pork annually.
Ham Hill Farms: A Century of Family Legacy and Sustainable Pork Production
For over 100 years, the Sandidge family has farmed in Missouri.  The farm that started with Jiggs and Shirley Sandidge has now grown to a 3rd generation family-owned company.  Most of the family is still involved in the operation of the company in different aspects from daily operations to sitting on the board of directors.  Ham Hill Farms includes crop production, a 3,500-head sow farm, and finishing space for roughly 80,000 head per year.
 Passion, Employee Dedication, and Community Impact
Moreover, the Sandidge family is passionate about what they do and about the people that they impact through the company.  This includes the 25-30 full-time and part-time employees that work on the farm, the consumers that benefit from the pork the family produces, and the families in the community where the farm is located that are impacted by the good that the family does.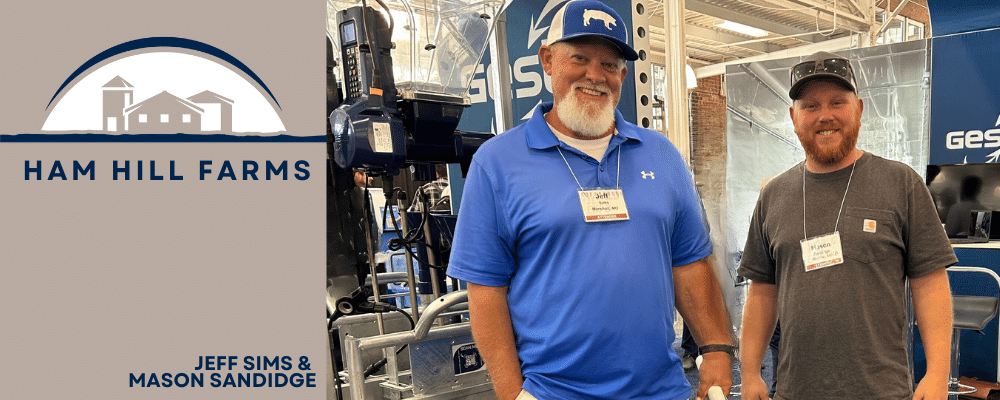 Long-Term Commitment and Family-Like Bonds
The average time employees have worked at the farm is 7-8 years.  Their employee retention is one thing that Jeff Sims, Ham Hill's VP of Pork Production, says they are most proud of, and Jeff has been working with the family for 27 years himself.  Mason Sandidge, one of the 3rd-generation owners at Ham Hill Farms, values their employees and says that some have worked with them his whole life and they are like family.
Caring for the Community
Additionally, Mason and Jeff also agreed that they are proud to be involved in a company that gives back to the local community they are in through things like sponsoring school yearbooks and little league teams as well as the quality pork that they produce to feed 250,000 people a year.
Embracing Modernization with Feeding System Technology
Ham Hill Farms certainly has changed since it started over 100 years ago.  One of the most significant changes was in 2019 when they moved from their existing 2,000 head gestation stall barn to a new 3,500-head sow unit with pen gestation 20 miles away.  This decision was made to meet a demand that the company saw in the market and although they say they are still in the learning stages, they are happy about making the change to pen gestation and with the results they have had so far.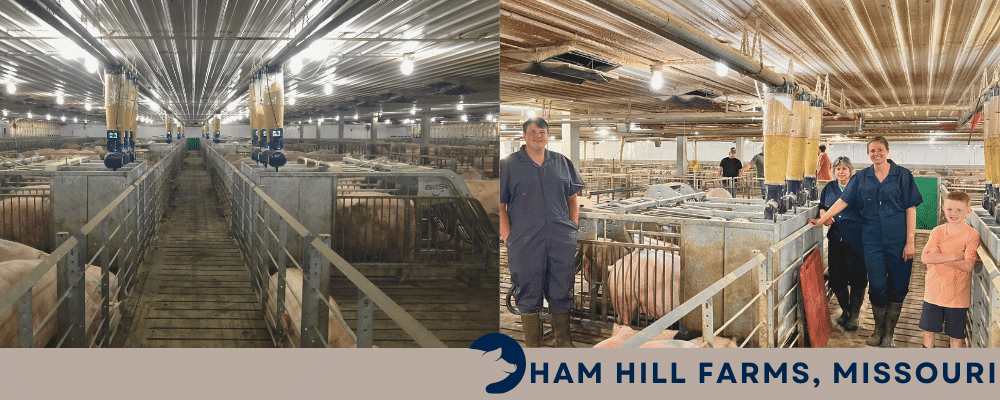 Enhanced Efficiency with GESTAL 3G Smart Feeder
In their new barn, the increased number of electronics has really changed the daily operation of the sow farm including the GESTAL 3G feeders that they use to feed their animals in pens throughout their gestation.  When designing their new sow farm, Jeff says they spoke to other producers they knew in the area who had experience with pen gestation and the product.  They ended up choosing to use the GESTAL 3G feeders because of the quality materials and manufacturing of the product as well as relatively low maintenance they required and the time spent training animals to use the system.  They even use the 3G feeders to feed the boars in both their gestation barns.
"GESTAL is really heavy duty-built equipment with relatively low maintenance and low sow training."  Jeff Sims, Ham Hill's VP of Pork Production
Overcoming Health Challenges by Building a Strong and Resilient Herd
Throughout the years, the company has faced several challenges but the most impactful one has been their challenge with herd health and disease, specifically PRRS.  As many producers can relate, this challenge can be devastating to production and morale but through the hard work of the employees and family and their vaccination program, they now have a PRRS stable herd.  One of their long-term goals is to continue to improve herd health which should help achieve other goals of more consistent and increased production.
Committed to Continuous Improvement
In conclusion, at Ham Hill Farms, the core values are dedicated to daily improvement of people and animals. There is a strong sense of accountability demonstrated through rigorous monitoring of farm production metrics. They prioritize the well-being and job satisfaction of their employees as a fundamental part of their company culture.
ASK FOR GESTAL
For more information on GESTAL smart feeding systems, contact our team or call us at (866) 333-7853.
With over 25 years of experience in swine production, we know your reality. GESTAL products are sold worldwide, including Canada, the United States, Latin America, Europe and Asia.